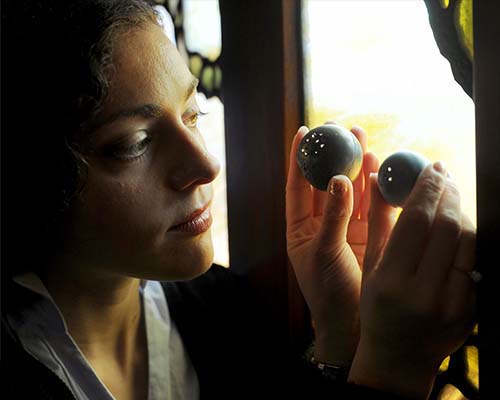 Imperfection as Perfection
Museums invariably say: "don't touch." French artist Milène Guermont says: "please do."
She believes her art should gratify the curious hand with a direct experience of the passion that she puts into each of her works....

Guermont's dual background in engineering and fine-arts provides an ideal platform for developing innovative concepts and materials. Her artworks in "Polysensual Concrete", for example, are designed to be interactive. Objects made of "Craters Concrete" are characterized by dramatic surface relief, created when the artist manipulates the material at the moment of crystallization. And finally, her "Colored Engraving" process permits permanent "writing" on the surface of concrete slabs.

The genesis of Guermont's interest in the artistic possibilities of concrete stems from a visit to Switzerland more than a decade ago when the sound of the sea emerged from a concrete wall she was touching, a classic example of synesthesia (stimulation of one sense provoking sensation in another). Since then, Guermont has sought to re-create through her work similar moments of discovery for others. She takes on faith that each of us is naturally curious for contact, interaction and experience, and no less so when it comes to art. In the typical museum setting, however, art lovers are frustrated in their desire for something to touch. And Guermont's work rewards the tactilely curious on more than one sensory level: when touched, many of her pieces respond with light and sound depending on the magnetic field of the person who is touching.


Edward BOSLEY
Director of the Gamble House museum (CA, USA), 2012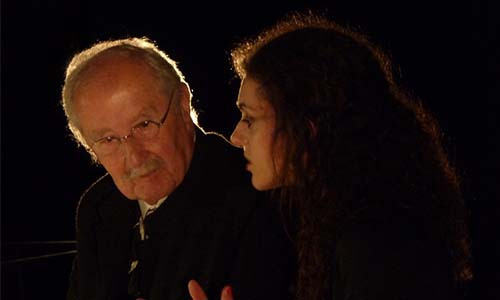 Miss béton

Pass in front of the wall of a school and you hear the children's laughter....
She is the queen of the 'metamorphosis of concrete' (this magnificent material which is imposing by its massive nature). She softens it and gives it a voice, which little by little becomes its own language.
We can say that she has created a new poetic way that superimposes onto the forms of architecture.


Milène Guermont is a magician, a magician of concrete.
Claude PARENT
Architect, 2012