DORS-DINE
DORS-DINE at Musée Passager
The Musée Passager (Ile-de-France release of the "mobile Centre Pompidou") exhibits about the concept of the "man-sponge" the artworks by Raphaël Barontini, Julien Berthier, Emma Bourgin, Nicolas Darrot, Nicolas Delay, Milène Guermont, Fabrice Hyber, Mathieu Lehanneur, Robert Milin, Françoise Pétrovitch, Florence Reymond and Lionel Sabatté.
Curator: Florence Guionneau-Joie.
From April 2 to June 21, 2016.
DORS-DINE is a reference to the expression "if you sleep, you will forget your hunger", which has two almost opposite meanings:
- "the sleep feeds the one who does not have enough to eat",
- "sleep here only those who have dinner" which was written in the inns of the Middle Ages to invite the night customers to sit at the table for supper.

Furthermore, in the western culture, the pumpkin evokes Halloween.
Smiling and terrible, it livens up and nevertheless suggests death.
By its curves and its reduced size, DORS-DINE is cute. But its grey color makes it disturbing.
If you touch it brutally, it will shout. But if you caress it delicately, it snores.
Thus, DORS-DINE invites the public to approach it smoothly (even if it is made of concrete).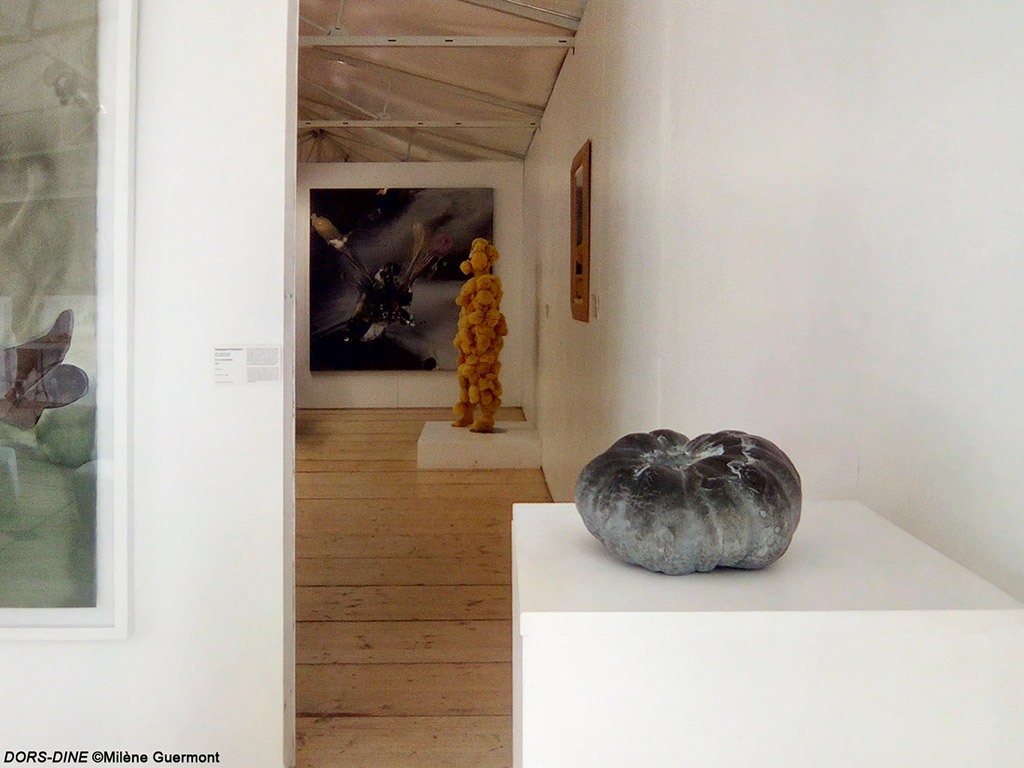 "Her pumpkin snores while her crystal tinkers... Milène Guermont, sculpts concrete like sound": Interview by RADIO-SOEE here