Finalist of the Neuilly Follies
FINALIST OF THE NEUILLY FOLLIES
New micro art-architectures for Les Allées de Neuilly
I am happy to be in one of the finalist teams for the Folies de Neuilly with Zaha Hadid, Sou Foujimoto, ...
I propose "Polysensual Concrete" artworks that emit sound or light according to your magnetic field when you touch them, day or night...
I dream of offering you works that bring comfort and wonder to all even in the midst of an insomnia!
These sensitive concrete sculptures would be the first to be accessible to everyone, freely, even at night.
I imagine also using two of my patents: "Craters Concrete" (to create asperities on the surface made without need of a mold) and "Colored Engraving on Concrete" (to write down and engrave images in color permanently on the concrete's skin) for more creative possibilities.
Moreover, they can be integrated into all the micro-architectures of the follies* and thus make them dialogue. We need to connect and share more than ever. Long live the federative adventures that offer peace & poetry!
NB: Polysensual Concrete is produced locally, its electronics consume as much as a mobile phone, its high-performance concrete is 10 times stronger than conventional concrete: it is therefore energy-efficient. Any kind of sounds can be put into the Polysensual Concrete.
* by: Agence d'Architecture Anthony Béchu & Associés, Zaha Hadid Architects, MALKA Architecture, Sou Fujimoto Architects, Moatti - Riviere, Manuelle Gautrand Architecture, Maison Edouard François, Shigeru Ban, Dominique Perrault Architecture, Chartier Dalix architectes, Carl Fredrik Svenstedt Architect, Alcmea Architectes.
PS: I will give a lecture at Columbia University's "Construction & Public Spaces Department" on May 11, 2022, at 1 pm EDT (7 pm CET) about my projects with Polysensual Concrete & unveil the first images about my inhabitable total artwork. If you want to participate physically or on line, please write to This email address is being protected from spambots. You need JavaScript enabled to view it.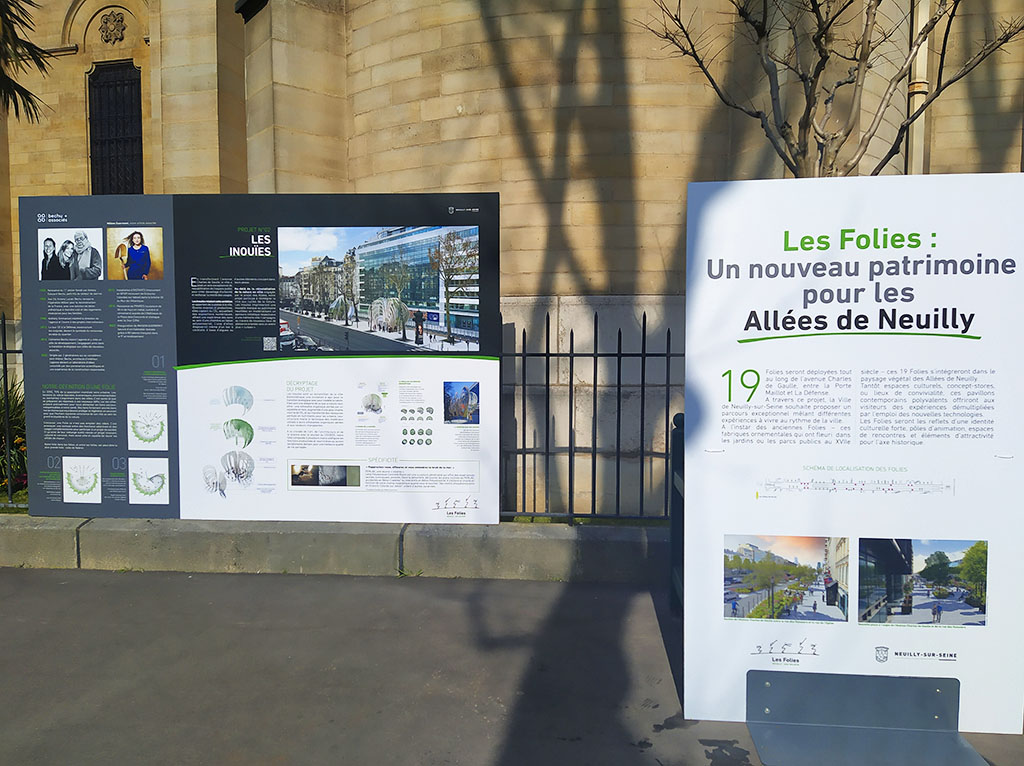 Exhibition of the finalists at the exterior of the Town Hall of Neuilly sur Seine
Video at the opening in March 2022